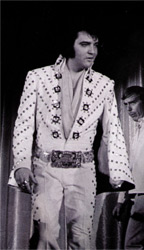 "There has never been a book like it about Elvis and probably never will be again. It brought me back eighteen years with questions I had concerning the loss of Elvis. I answered those questions and added more that were really answered."
J. Ivins
Elvis Fan, California
"It's funny, even after almost 18 years, I still cry when I read something about Elvis' death. You pain a vivid picture of the occurrences of August 16, 1977."
C. Hopp
President of Elvis "That's The Way It Is Fan Club", Illinois
"Who better to write this type of book dealing with this subject than someone with Dick Grob's background and training in security and investigations. His answers are sincere and frank. One thing came through always, his genuine feelings."
D. Elkin
Elvis-Friends Hollywood Fan Club, California
"...I believe it is a revealing look over the wall of the inner circle. I could identify dates to your stories, even though I wasn't there..."
R. Leech
Elvis Photo of the Month Club, New Jersey