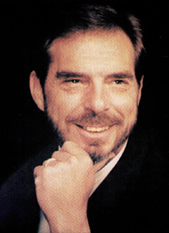 Dick Grob was associated with Elvis Presley for over ten years, served as his personal bodyguard and Chief of Security on every tour, trip and almost everywhere else. After Elvis' death, he remained with the estate for a time as Director of Security, working directly for Elvis' father, Vernon Presley.
Grob, an Air Force officer, served over ten years in law enforcement. Presently, he operates his own successful consulting business. During his career in law enforcement he received specialized training from the FBI and worked security details in personal and dignitary protection. He also, on occasion, worked with the CIA. His credentials were well established when he took over protection for his friend, Elvis.
Grob's specialized training in protection and investigation makes him eminently qualified to relate and substantiate the facts revealed in this manuscript concerning the death of the world's greatest superstar. The Elvis Conspiracy? differs from the many other books published about Elvis. The author refused to use a ghost writer and adamantly opposed any connection with the "Me and Elvis" format used in so many previous books. The reader will find no outside influence in this narrative. Although the emotions and feeling of the author come through, you'll find "the facts, ma'am, just the facts," as the thread weaving the tapestry of this story.